Florence Scovel Shinn
Health Affirmations 

These health affirmations are from the book Your Word is Your Wand.
You will find more health affirmations by Florence here.
Link to more affirmations by Florence on Career, Guidance, Love and Happiness, Prosperity and Success.
Revel in more Health Affirmations by Louise Hay and Catherine Ponder as well as Health Affirmations from the Daily Positive Affirmations page.
Experience hundreds more Daily Positive Affirmations and Louise Hay Affirmations on Health, Love, Career, Success, Self Esteem, Prosperity and More.

Health Affirmations

Divine Love floods my consciousness with health,
and every cell in my body is filled with light.

---
My ears are God's ears, I hear with the ears of spirit.
I am non-resistant and am willing to be led. I hear glad tidings of joy.

---
I am a Spiritual Being - my body is perfect, made in His likeness and image.
The Light now streams through every cell. I give thanks for my radiant health.

---
I am nourished by the spirit within. Every cell in my body is filled with light.
I give thanks for radiant health and endless happiness.

Free Florence Scovel Shinn Books
Below you will find four free books by Florence in PDF format. Click on the book to read.
For more books on the Law of Attraction and Metaphysical Works visit Free PDF Books.
Listen to the audio book of The Game of Life.
Unlock Your Subconscious Mind
You can accelerate the effective use of your thoughts and beliefs, by accessing the subconscious mind.

Using affirmations does exactly that and so will the ability to relax with our Self Hypnosis Downloads.
The downloads we offer cover a vast range of subjects from addiction to weight loss. You can use the search bar to look for downloads on anxiety, confidence, relationships,  self esteem and much, much more.
Here is a complete list of the topics covered. 

You will love the way you feel after using these downloads. You can listen to your session on your computer, smartphone, tablet or CD.
All the downloads have been carefully crafted by professional hypnotherapist educators with a proven track record. With over 24,000 people trained and over 600,000 audios purchased, Hypnosis Downloads are the world's largest hypnosis provider.
Source of Florence Scovel Shinn Affirmations
Many of Florence's affirmations can be found in her books. The majority of the affirmations on this page are taken from Your Word Is Your Wand.
You can purchase The Complete Works of Florence Scovel Shinn. This volume includes the four classic works of Florence Scovel Shinn - The Game of Life, The Secret Door to Success, Your Word is Your Wand and The Power of the Spoken Word.

Weight Loss Help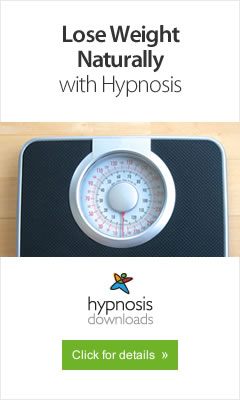 Are you struggling with weight loss? Self hypnosis can provide the extra motivation and determination to keep you moving in the direction of your goals, and help you escape the many food traps that can cause weight gain.

The aim of using hypnosis for weight loss is to re-educate your unconscious mind - the part that creates cravings and impulses - to give you back real choice in what you eat. You know that a real and permanent change in your weight only comes with a change in lifestyle, not through fad diets that you can't possibly keep up over the long term. Our weight control hypnosis downloads can help you make those changes.

Why is hypnotherapy so much more effective than just dieting alone? Because it lifts you out of a double bind, or Catch-22. On the one hand, faddy dieting and unnatural calorie restriction actually causes your body to store fat more effectively, and create cravings for high-calorie, unsatiating foods. In addition, feeling 'deprived' on a daily basis is eventually going to drive you to bingeing and rebellion, no matter how strong your self-control. In short, hunger always wins in the end.
Break the patterns and habits of poor or over eating and take control of your hunger and weight
Taking a psychological approach with hypnosis deals with the hidden patterns behind poor eating and over-eating at the same level as they occur - deep in your unconscious mind.
~ Excerpted from Hypnosis Downloads
Healthy Eating
You are what you eat, they say, but taking full responsibility for food and healthy eating in your life can be quite a challenge. 

>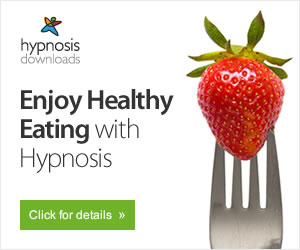 Especially nowadays, in the modern world, we are all surrounded by temptations to consume too much, and too much of the wrong thing. And not only temptation - a whole industry is devoted to persuading us to indulge ourselves to excess.
And what if your challenge is in the other direction? What if you have been depriving yourself unhealthily, and are trying to return to a more balanced approach? All that pressure is no help to you either.
Of course you need to take practical measures to manage your food intake and establish a good and healthy routine, but you will be much more likely to succeed at this if you focus on the psychological aspects of nutrition and eating. And this is where hypnosis can really help you.
These food and healthy eating hypnosis downloads are based on a solid understanding of the psychological underpinnings of unhealthy consumption. You can find a download to help you comfortably, easily and effectively take control of how food contributes to your healthy lifestyle. 
~ Excerpted from Hypnosis Downloads
Working With Affirmations
Check out the free book Self Help Techniques by Alan Drew.
There's a great chapter called 'Working with Affirmations' which includes affirmations on:
Love
Health
Abundance
Romance
Weight Loss
Self Esteem
Peace and Happiness
Affirmations That Work

Are you wondering what affirmations are, how to use affirmations, or how to write your own affirmations?
Finding out is a whole lot of fun and will transform your life on every level.
For more information visit Affirmations That Work.
Affirmations with Images

Click here for a range of affirmations with fun images.
More Health Affirmations
Click here and here for more Health Affirmations.
Click here for Louise Hay Health Affirmations.
Click here for Catherine Ponder Health Affirmations.
PDF Links
See the following links to PDF documents for more Florence Scovel Shinn Affirmations.
Click here for more Health Affirmations.
Click here for more Success Affirmations.
Click here for more Guidance Affirmations.
Click here for more Prosperity Affirmations.
Click here for more Love & Happiness Affirmations.
Florence Scovel Shinn Affirmations

Click here for Love Affirmations.
Click here for Career Affirmations.
Click here for Success Affirmations.
Click here for Guidance Affirmations.
Click here for Prosperity Affirmations.

Florence Scovel Shinn - or - Home Page
Nothing Is Too Good to be True
Nothing Is Too Wonderful to Happen
Nothing Is Too Good to Last
~ Florence Scovel Shinn