Law of Attraction Haven
Welcome to the Fourth Issue of the LOA Haven Ezine.
Every issue will contain a new and free book.
You'll also find other material that will hopefully delight and interest you!
---
In This Issue
In this issue, you will find:

- Your New Book: The Life Triumphant: Mastering the Heart & Mind by James Allen

- About James Allen

- An Opportunity to Learn Hypnosis for Free

- How to Connect With Me

- How to Pay It Forward

- A Place to Leave Comments & Ask Questions

- The Issue Date for Your Next Free Book
---
The Life Triumphant
The Law of Attraction Haven brings you the latest addition to our Free PDF Books page - The Life Triumphant by James Allen.

This wonderful book hasn't been added to the site yet. As a LOA Haven e-zine subscriber you get first dibs!

You will see this book arrive on our Free PDF Books page on May 31, 2017.

You will also find the ePub (for mobile) and Kindle versions online at the same time.

Click here or on the book image below to start reading now.
---
About James Allen
James Allen tells us that we live in our own individual, mental world.

He believes this mental world can be perfect, free from everyday hardship, and can be found by controlling our own thoughts.

This book, published in 1908, is claimed to be the most powerful and inspiring of Allen's works.

If you are looking for encouragement in the fields of personal development and self improvement, this book will guide you to shrug off the sorrows and sins of life and turn your face to the wonder and joy that is your birthright.

If you align with James Allens' writing style, you will find five more free books on our Free PDF Books page. Just click this link to access all of them. Alternatively, access the titles individually below:

These links will open into PDF files.

Click here or on the book image below to start reading now.
---
Learn Hypnosis for Free
James Allen encourages us to redirect our thoughts and use the energy within us to create a new consciousness.

An easy was to do this is through the self control of our own minds - or self hypnosis.

Hypnosis is natural, the mind and body relax deeply, while the mind remains acutely aware. It is no different to meditation.

We fall into meditative states many times during the course of a day - walking, listening to music, relaxing, gardening, reading, driving...

All hypnosis is self hypnosis. No one can control your mind without your permission.

Only you can choose to enter into a calm state (or not) through the use of your brilliant mind. Not one other person on this planet can make you feel anything.

You are solely (soul-y) responsible for this. If, as a species, we could all understand and practice this we would live in a far more peaceful and compassionate world.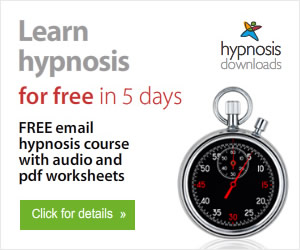 You can read here the Reassuring Reasons Hypnosis is Your Friend?

Why choose Hypnosis Downloads?

- They have helped over 600,000 people

- They have trained over 24,000 people since 1995

- They have treated over 5,000 people in one-to-one therapy

- They offer a 90 day money-back guarantee on all products

- You'll receive an instant download or free worldwide shipping

- I can assure you they offer amazing customer service

Still unsure about hypnosis? This article on Five Hypnosis Myths Exploded may clear things up for you.
---
Connect With Me
I'd love to connect with you on Facebook, Pinterest, Twitter, and Google+.

Drop by and say hello.
---
Pay It Forward
If you like this e-zine, please do your friends (and me) a big favor and "pay it forward." That is, forward a copy of this ezine to your friends.

If a friend DID forward this to you and you like what you see, visit our Free PDF Books page and pop your details into the form to receive free books in your own inbox.
---
Comments & Questions
Do you have any comments, questions, feedback or ideas?

I'd love to hear from you.

Just click reply and ask a question or tell me what you think - or both!
---
Next Issue Date
I hope you have enjoyed this latest book by James Allen.

You can read more free books by James Allen on the Free PDF Books page of the Law of Attraction Haven.

As always, your next free book is a surprise...even to me. I am on the look out right now to discover new texts to share with you.

I'll see you again in early June for another free book.

These books are dedicated to seekers the world over of love, light, peace and wisdom.

Namaste,
Margeurite
Law of Attraction Haven