Florence Scovel Shinn 
Career Affirmations

These career affirmations by Florence Scovel Shinn are from the book Your Word is Your Wand. 
You will also find four free books by Florence and can link to enjoy more Career Affirmations by Louise Hay.
Experience hundreds more Daily Positive Affirmations and Louise Hay Affirmations on Career, Health, Love, Success, Self Esteem, Prosperity and More.

Link to more affirmations by Florence on Health, Guidance, Love and Happiness, Prosperity and Success.
Career Affirmations

The genius within me is released. I now fulfill my destiny.

---

There is no competition on the spiritual plane.
What is rightfully mine is given me under grace.

---

I have a perfect work in a perfect way; I give perfect service for perfect pay.

---
Every man is a golden link in the chain of my good.

Free Florence Scovel Shinn Books
Below you will find four free books by Florence in PDF format. Click on the book to read.
For more books on the Law of Attraction and Metaphysical Works visit Free PDF Books.
Listen to the audio book of The Game of Life.
Source of Florence Scovel Shinn Affirmations
Many of Florence's affirmations can be found in her books. The majority of the affirmations on this page are taken from Your Word Is Your Wand.
You can purchase The Complete Works of Florence Scovel Shinn. This volume includes the four classic works of Florence Scovel Shinn - The Game of Life, The Secret Door to Success, Your Word is Your Wand and The Power of the Spoken Word.

Job Skills Help with Hypnosis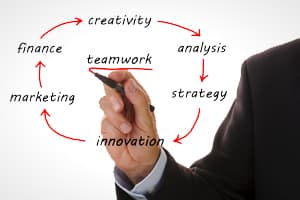 The world of work is ever more challenging and competitive. Learning job skills can improve your chances and enhance your progress. Technical skills can be learned in structured training, often with special tuition and hands-on practice. But where (and how) do you learn the 'soft skills' that can make such a difference, the skills that will make you the chosen candidate, or the person everyone wants on their team?
Using hypnosis, you can really get to work on how you handle different aspects of working life, from punctuality to project management, from selling to dealing with paperwork, from running a meeting to dealing with difficult colleagues.
These learning job skills hypnosis downloads cover a range of different work situations, and will give you the tools to be at your best in any or all of them, confident that you can handle it. ~ Excerpted from Hypnosis Downloads
Working With Affirmations
Check out the free book Self Help Techniques by Alan Drew.
There's a great chapter called 'Working with Affirmations' which includes affirmations on:
Love
Health
Abundance
Romance
Weight Loss
Self Esteem
Peace and Happiness
Affirmations That Work

Are you wondering what affirmations are, how to use affirmations, or how to write your own affirmations?
Finding out is a whole lot of fun and will transform your life on every level.
For more information visit Affirmations That Work.
Affirmations with Images

Click here for a range of affirmations with fun images.
More Florence Affirmations
See the following links to PDF documents for more Florence Scovel Shinn Affirmations.

Guidance Affirmations
Health Affirmations
Love & Happiness Affirmations
Prosperity Affirmations
Success Affirmations
Popular Affirmations

Link to the Law of Attraction Haven's popular Louise Hay Affirmations, Daily Positive Affirmations and Catherine Ponder Affirmations.
Florence Scovel Shinn - or - Home Page
Follow the Law of Attraction Haven


Nothing Is Too Good to be True
Nothing Is Too Wonderful to Happen
Nothing Is Too Good to Last
~ Florence Scovel Shinn