Florence Scovel Shinn
Love & Happiness Affirmations 

These love and happiness affirmations are from the book Your Word is Your Wand.
You will find more love and happiness affirmations by Florence here.
Link to more affirmations by Florence on Career, Guidance, Health, Prosperity and Success.

Reflect on more Love Affirmations by Louise Hay and Catherine Ponder as well as Love Affirmations from the Daily Positive Affirmations page.
Experience hundreds more Daily Positive Affirmations and Louise Hay Affirmations on Health, Love, Career, Success, Self Esteem, Prosperity and More.

Love & Happiness Affirmations

Happiness is God's affair, therefore, no one can interfere.

---
I am at peace with myself and with the whole world.
I love everyone and everyone loves me.

---

My good now flows to me in a steady unbroken,
ever-increasing stream of happiness.

---

I give thanks that the marriage made in heaven is now made manifest upon earth.
"The twain shall be made one" now and for all eternity.

Free Florence Scovel Shinn Books
Below you will find four free books by Florence in PDF format. Click on the book to read.
For more books on the Law of Attraction and Metaphysical Works visit Free PDF Books.
Listen to the audio book of The Game of Life.
Source of Florence Scovel Shinn Affirmations
Many of Florence's affirmations can be found in her books. The majority of the affirmations on this page are taken from Your Word Is Your Wand.
You can purchase The Complete Works of Florence Scovel Shinn. This volume includes the four classic works of Florence Scovel Shinn - The Game of Life, The Secret Door to Success, Your Word is Your Wand and The Power of the Spoken Word.

Relationship Help with Hypnosis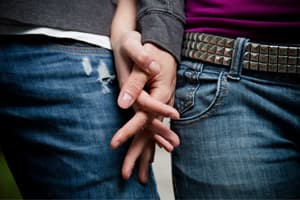 Why would you want help with relationships? Because relationships are the central pillar of a happy and satisfying life, that's why. Whether it's about making it work with a new partner, just enjoying a date, putting things right after a spat, or dealing with insecurity, hypnosis can really help you deal with the psychological and emotional issues that arise in any relationship.
Nor is it just about partners/dates/spouses. Your family and social links are just as important for your health and well being as your connection with a 'significant other'. Life's so much better when you can get on with your mom or dad, step mom or step dad, children or step children, siblings or step siblings - and let's not even mention the in-laws!
Whether you are currently dating, or in a long-term partnership, browse the downloads below to see if they can help you make more of the relationships you treasure. ~ Excerpted from Hypnosis Downloads
Working With Affirmations
Check out the free book Self Help Techniques by Alan Drew.
There's a great chapter called 'Working with Affirmations' which includes affirmations on:
Love
Health
Abundance
Romance
Weight Loss
Self Esteem
Peace and Happiness
Affirmations That Work

Are you wondering what affirmations are, how to use affirmations, or how to write your own affirmations?
Finding out is a whole lot of fun and will transform your life on every level.
For more information visit Affirmations That Work.
Affirmations with Images

Click here for a range of affirmations with fun images.
More Florence Affirmations
See the following links to PDF documents for more Florence Scovel Shinn Affirmations.

Guidance Affirmations
Health Affirmations
Love & Happiness Affirmations
Prosperity Affirmations
Success Affirmations
Popular Affirmations

Link to the Law of Attraction Haven's popular Louise Hay Affirmations, Daily Positive Affirmations and Catherine Ponder Affirmations.

Florence Scovel Shinn - or - Home Page
Follow the Law of Attraction Haven


Nothing Is Too Good to be True
Nothing Is Too Wonderful to Happen
Nothing Is Too Good to Last
~ Florence Scovel Shinn