Prosperity Affirmations
Infuse these Prosperity Affirmations into your Consciousness...
                                               ...and Increase the Flow of Money into your Life

I have created these affirmations for myself over the years.
You'll see that I use the words millions and multi-millionaire. If you don't feel comfortable with these words, that's okay, just use wealth or wealthy instead.
Rather than saying: "I am so grateful for the millions of dollars in my life." You could say: "I am so grateful for the wealth in my life."
---
---
It really all depends on how you FEEL about what you're saying...if you FEEL like a phony then there's little use repeating affirmations that are a stretch to you.
Don't worry, you won't do yourself any harm, but if you're going to do it, you might as well make sure you have Affirmations That Work!
Free Prosperity Books

When you click on these books you'll open up to a blurb. If you like what you see, you can link to the entire book from within the blurb.

My Money Affirmations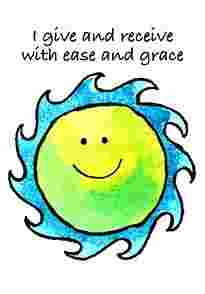 ---
---
   

I deserve to have money flow easily and effortlessly to
    me.
    There is no end to the abundance and prosperity that
    flows to me.
    There is an avalanche of money streaming into my
    world.
Prosperity Affirmations from Books
Here are some prosperity affirmations from my favorite books.

These books have completely changed my money consciousness. 
Busting Loose from the Money Game

Beyond Positive Thinking

The Power of Your Subconscious Mind

I like money, I love it, I use it wisely, constructively, and judiciously.
The affirmation below is one I use daily - multiple times. Author, Joseph Murphy, says "let this be your daily affirmation; write it in your heart."
If you do this, without thinking about how things will come to fruition, you will have many stories of money flowing naturally into your life.
| | | |
| --- | --- | --- |
| | | "It is my right to be rich, happy, and successful. Money flows to me freely, copiously, and endlessly. I am forever conscious of my true worth. I give of my talents freely, and I am wonderfully blessed financially. It is wonderful!" |
More Money Affirmations

Money is a state of mind that supports me. I allow prosperity to enter my life on a higher level than ever before.

At this very moment, enormous wealth and power are available to me. I choose to feel worthy and deserving.

I am a magnet for money. Prosperity of every kind is drawn to me.

I release all resistance to money, and I now allow it to flow joyously into my life.

My prosperity comes from Divine Intelligence.
I am Divine Intelligence.
I am a healthy, kind, loving, generous
multi-millionaire.
Affirmations That Work

Are you wondering what affirmations are, how to use these prosperity affirmations, or how to write your own affirmations?
Finding out is a whole lot of fun and will transform your life on every level.
For more information visit Affirmations That Work.
 Go to Positive Affirmations - OR - Go to Home Page

It Is Your Right to be Rich
~ Joseph Murphy