Louise Hay Affirmations
Health Healing & Weight Loss

Louise Hay Affirmations for Weight Loss

---
---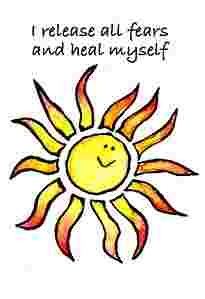 Louise Hay Affirmations - Health & Healing

Louise Hay affirmations to maintain or improve your vibrant health and to aid your body in healing.

---
---
Assisting In Your Own Healing

Louise has designed this recording with self-healing and health maintenance in mind. Louise believes that it doesn't matter what your disease is. She says if you choose to work with the ideas in this recording your health is sure to improve.

Assisting in Your Own Healing (approx. 1hr 20mins)

New Thought Patterns

In the final chapter of You Can Heal Your Life Louise has a list of ailments.
She states the likely cause of a particular condition and then provides a new thought pattern in the form of an affirmation to assist you in healing yourself. Here are a few examples:
PROBLEM

---

Addictions


High Blood
Pressure

Fat


PROBABLE CAUSE

---

Running from the self. Fear. Not knowing how to love the self.

Longstanding emotional problem
not solved.

Represents protection.
Oversensitivity.

NEW THOUGHT PATTERN

---

I now discover how wonderful I am. I choose to love and enjoy myself.

I joyously release the past. I am at peace.

I am protected by Divine Love. I am always safe and secure.
Health and Healing Affirmation

This health affirmation can be offered as a prayer. It is excerpted from "The Body" chapter in Louise's book.
In the infinity of life where I am,
all is perfect, whole and complete.
I recognize my body as a good friend.
Each cell in my body has Divine Intelligence.
I listen to what it tells me,
and know that its advice is valid.
I am always safe, and Divinely protected and guided.
I choose to be healthy and free.
All is well in my world.
Get your daily dose of Louise Hay Affirmations or check out Louise's official website.
Affirmations that Work

Are you wondering what affirmations are, how to use these affirmations for self esteem, or how to write your own affirmations?
Finding out is a whole lot of fun and will transform your life on every level.
For more information visit Affirmations That Work.
Go to Louise Hay Affirmations - OR- Go to Home Page
---
---
A Healthy Outside Starts from the Inside
~ Robert Urich