Interpersonal Skills

Interpersonal Skills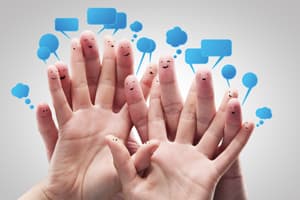 Hell is other people. But so is heaven. So developing interpersonal skills is the way to get out of hell and into heaven (metaphorically speaking).
Getting on with other people ought to be simple. We are all humans together, with much the same attributes and with very much the same feelings. But for many people, even the simple matter of talking to another person can be quite tricky - from knowing how to make eye contact comfortably to gauging just how close to stand (or sit).
And even if you get those basics right, and know how to 'make conversation', what about when you get beyond the basics? How do you go about building rapport with another person? How do you make more friends? Set up a date? How do you stop your own emotions getting in the way?
All these and many more related issues are covered in our developing interpersonal skills hypnosis downloads, so you are sure to find something to help you relate more easily with all the different people you encounter in your life. ~ Excerpted from Hypnosis Downloads
Popular Interpersonal Skills Audios
---
---
90-Day Money Back Guarantee

We guarantee you will love the way you feel after using one of our online self hypnosis audios - or we will give you your money back. You can listen to your hypnosis sessions on your device, your computer or CD, or use our app on your phone or tablet.
All our online hypnotherapy audios have been carefully crafted by professional hypnotherapist educators with a proven track record and since 2003, over 600,000 have been downloaded. You can browse all audios here.

More Interpersonal Skills Audios
Take Compliments Well
Be Comfortable Around Women
Stop Attention Seeking
Repair Poor First Impressions
Best Friend
Be More Approachable
Communicate Less Abrasively
Don't Be Critical
Be More Attractive to Men
Be More Attractive to Women
Magnetic Personality
Be More Romantic
Get Popular
Building Rapport
Overbearing?
In-Law Problems?
Feeling Intimidated
Don't Begrudge!
It's Not Personal
Taken for Granted?
Look Me In the Eye!
Be Calm with Superiors
Confrontation Phobia
Social Connections
How to Say Sorry
The Ultimate Interaction
Be More Sociable
Introduce Yourself Confidently
Keeping in Touch
Don't Confront
Negativity Barrier
Understand Others Better
Yourself First for a Change
Boundary Setting
Smile More
Male Speed Date
Female Speed Date
Dealing with THAT person
Too Self Centered
Judgemental?
Passive Aggressive Personality
Learn hypnosis and help yourself and others with this free course.
Visit our Self Hypnosis Downloads page.
---
---
---
---